CRAWL SPACE WATER DAMAGE
3/11/2019 (Permalink)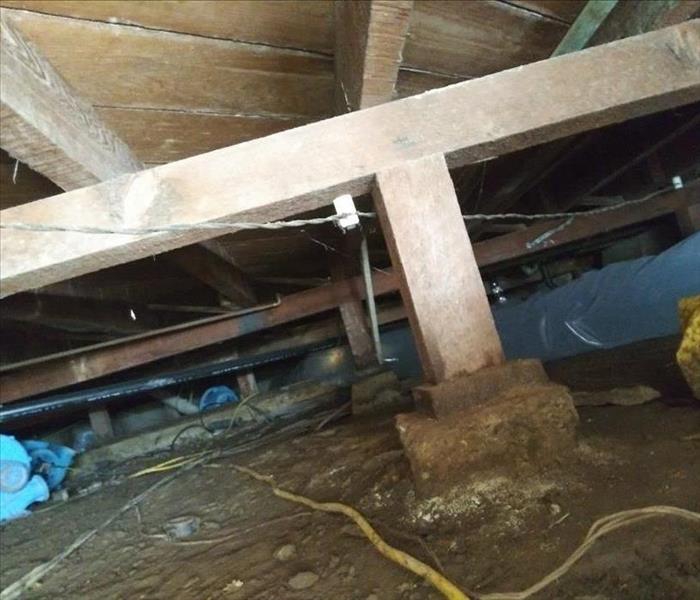 Water damage is incredibly invasive and often reaches a home's crawl space. This is the hollow area found under some houses between the ground and the first floor, roughly one to three feet high. Because it's rare for tenants to access this area, water damage can cause significant damage before the consequences become evident. Here are some common causes for water damage within a crawl space.
Excess Humidity
One possible source of water damage within a crawl space involves excess humidity. Homes with broken window seals or an unsealed crawlspace with a dirt floor will generally have humidity problems. Water can evaporate and become trapped in the crawlspace, resulting in a thin sheet of water. This may then lead to water damage, mold growth, or poor air quality.
Leaky or Broken Pipes
If a puddle of water is found in a crawlspace, a leaky or burst pipe may be the cause. This water could be either clean or contaminated, depending on which pipe it escaped from. A musty smell usually indicates clean water that has been sitting for some time whereas a foul stench may indicate sewage water.
Roof Leak
For homes that have crawl spaces directly attached to the roof, water damage will usually be evident on the ceiling and walls of the crawl space. You may even hear water moving from inside the attic to an inside wall, leading to the crawl space. We recommend calling a professional roofer to locate and patch the leak before addressing crawl space water damage.
What Should be Done if Water Damage is Found in My Crawl Space?
Since a wet foundation, damaged drywall, or sewage leaks can cause serious damage to your home in the first 24-48 hours, we recommend calling us for immediate restoration services. We will identify the source of the damage, use professional equipment to treat the area, and properly handle sewage water or standing water that has bred bacteria. Let us help you determine which materials can be salvaged, and we will repair the affected flooring and drywall.
Call SERVPRO of Northeast Long Beach / Lakewood 24/7 at 562-420-0030 if you experience water damage within your crawl space.