WATER DAMAGE FROM A DISHWASHER
3/12/2019 (Permalink)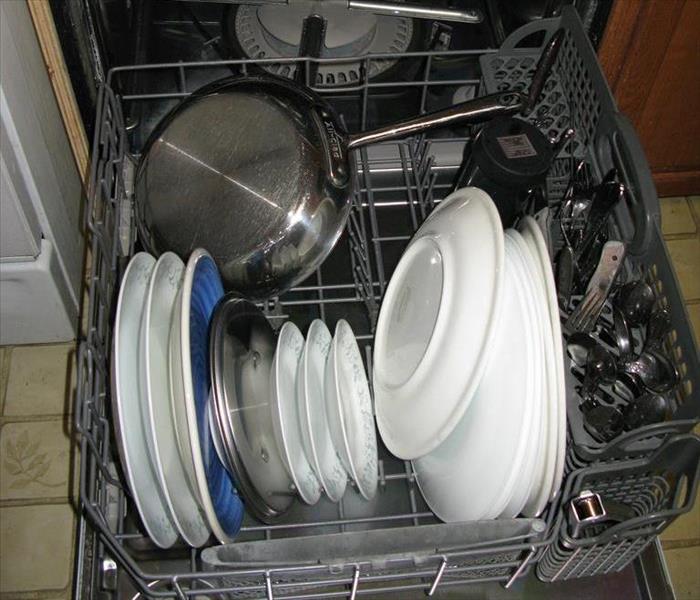 Have you experienced water damage from a malfunctioning dishwasher? Identifying the source of the problem can become a challenging task. Here we will list common causes for a dishwasher leak, discuss how quickly water damage can occur, explore if it's covered by insurance, and what can be done to fix the problem.
Common causes for a dishwasher leak include the following:
Worn gaskets
An dishwasher incorrectly leveled
Incorrect dish washing soap
Broken door
Defective dishwasher tub
How long does it take for damage to occur?
Water leaking from a dishwasher can cause damage within a few hours. Any visible pools of water should be mopped quickly; if it remains on the floor for too long, it can cause permanent damage. Some flooring materials are more susceptible to water damage such as wood or bamboo. For instance, wood will absorb water quickly, causing your flooring to warp and crack.
Is the damage covered by insurance?
Depending on your insurance policy, the damage might be covered. If the dishwasher is new, has shown no previous signs of wear and tear, and you report the damage in a timely manner, your insurer may cover the repair cost. If your dishwasher is old, shows signs of neglect, and has caused you problems in the past, your insurer will likely rule that the water damage is due to negligence on your part and not cover the damages. In addition, we encourage you to view your dishwasher's warranty to figure out if you can receive a replacement washer free of charge.
Repairing the resulting water damage
Once you notice a malfunction with your dishwasher, make sure to turn it off right away. Call SERVPRO of Downtown Long Beach / Signal Hill, and we can assist with pulling the unit out from under the counter to reach any water that has pooled beneath the machine. Additionally, we can identify the cause of the leak, test for moisture, and schedule any necessary repairs. Let us know how we can help, day or night, at 562-591-1788.