HOW TO REMAIN SAFE DURING AN EARTHQUAKE
7/9/2019 (Permalink)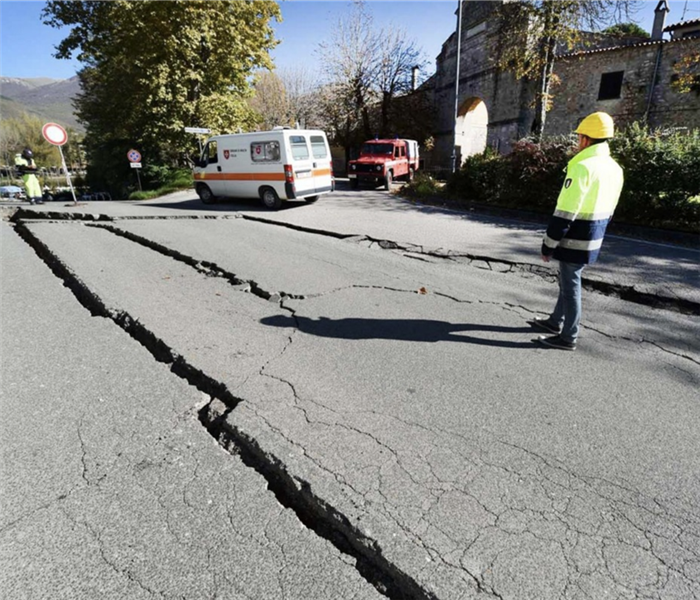 On Independence Day this year, a 6.4-magnitude hit Southern California, only to be followed by a 7.1 magnitude earthquake the next day, the strongest earthquake in the region for decades.
While none of the quakes resulted in any major injuries or fatalities, the incident did displace many residents in the towns located near the epicenter of the first two major temblors.
Earthquakes can happen anywhere, without warning, and cause natural disasters such as tsunamis, landslides, and avalanches. If an earthquake happens, protect yourself right away. Drop, Cover, then Hold On!
We recommend taking the following steps to prepare for, survive, and recover from an earthquake:
Make a Plan: Gathering your family will be a top priority. Choose a meeting place and an out-of-area contact to relay messages.
Secure Your Home: Make sure your house is as shake proof as possible by retrofitting weak spots, strapping down heavy furniture and securing loose objects.
Obtain a Kit: Store supplies to get your family through at least the first three days after a quake.
Drop, Cover, and Hold on: When a quake stars, drop down where you are, and cover your head. If you're near heavy furniture, take cover underneath and hold tight.
Check for Hazards: When the shaking stops, check for injuries and for damage to home electrical wires, gas lines, walls, floors, and water pipes.
Stay Connected: Surviving a quake is a community effort. Get to know your neighbors now, and work together with local organizations to prepare.
With preparation, you can reduce worry and stress during an emergency. If an earthquake causes significant damage to Southern California, SERVPRO of Northeast Long Beach/Lakewood is here to help clean the debris and restore your home or business back to preloss conditions.