HOW TO MANAGE COMPULSIVE HOARDING
5/24/2019 (Permalink)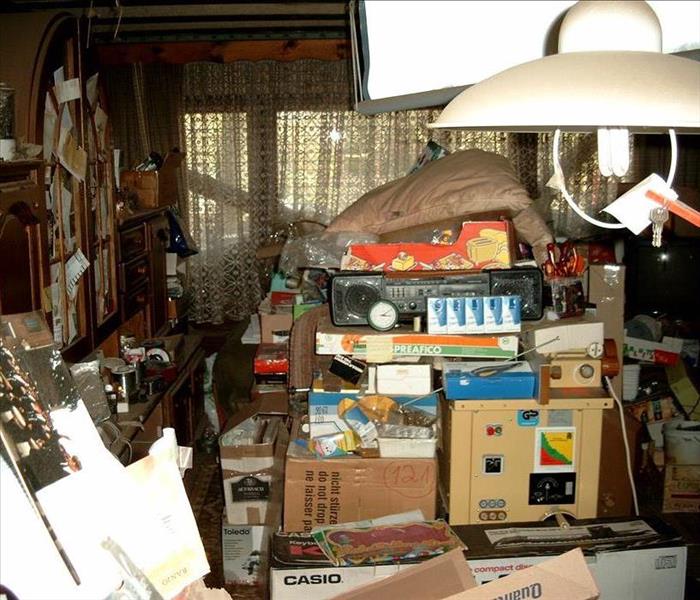 Not every home disaster comes from a storm, a burst pipe, or a fire in the kitchen, resulting in extensive water or fire damage. Hoarding is an increasing problem for many families that requires a professional cleaning and restoration service. A person living with the disorder experiences a compulsive need to keep everything, even trash or waste items. This excessive accumulation can lead to homes filled with extreme clutter, creating crowded and unsanitary living conditions.
If you are trying to help a friend or family member manage their hoarding tendencies, we recommend the following:
Start Slow. Don't go through your home and throw everything into the dumpster at once. This may lead to strong feelings of regret and anxiety; rather, go through one small space or collection each week.
Be decisive. Make a rational decision about whether or not to keep an item. Handle objects only once and don't revisit items you chose to discard. If you really can't decide, store it in a box for six months. If you don't open the box before then, you can let it go.
Minimize Collections. If you kept all of your childhood drawings or essays, choose to save only a handful of the most memorable ones and donate or recycle the rest. Explore opportunities to convert physical photos or writings into digital files to save space and prevent wear and tear.
Throw away unused items. Even if the item is brand new, if you don't use it, it's simply taking up space. If you bought items to start a new hobby, re-evaluate if the hobby is truly the right fit for you.
Consider Consignment. It's easier to downsize if you know your possessions are going to a good home. Check if your items can be sold for money or donated to someone in need.
SERVPRO of Northeast Long Beach/Lakewood offers a sensitive approach to these situations with the safety of the homeowner, as well as our technicians, in mind. We can remove the unwanted items from the house and address lingering issues such as odors and structural damages. We have the equipment and expertise to contend with bacteria and the effects of infestations. Our premier cleaning services can make hoarding situations "Like it never even happened," and return your home to a livable condition.